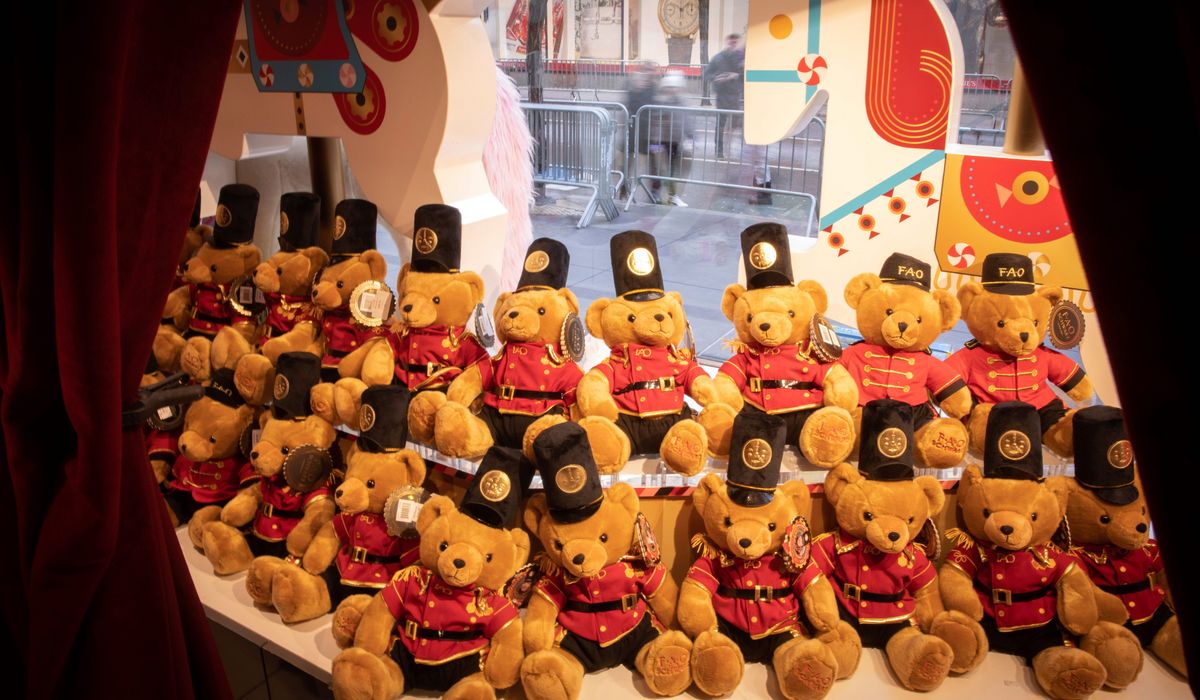 It turns out natural selection applies to the stuffed animal kingdom, too.
As children tear into boxes with flashing lights and gadgety beeps this Christmas, millions will find Santa has gone old school and left them a new cuddly pal.
But the little guy sitting under the tree today is worlds apart from the original teddy bear of a century ago or even the stuffed Garfields and Beanie Babies of decades ago.
Fueled by new materials and different techniques, companies such as Gund and Jellycat are helping foment a massive transformation in the stuffed animal market, with toys that have become incredibly soft. With companies such as Wild Republic leading the way, children can cuddle with more true-to-real-life animals.
"There's been two trends," said Richard Gottlieb at Global Toy Experts. "There's been more attention to the kinesthetic side, the tactile aspect, what we call a soft-touch product, [and] there is more realism in animals."
To call them teddy bears is pretty much an anachronism.
Walk the stuffed animal aisle of a toy store — or, better yet, go browsing online — and you will be confronted with a deeper selection than a sushi menu. In fact, sushi is one type of plushie on the market, according to a survey of stuffed animal web searches commissioned this year by TheBiteSizedBackpacker.com.
Bears remain the dominant stuffie, with about a quarter of all searches. That's more than the next four runner-up animals combined: dogs, cats, bunnies and elephants.
But the survey found people also are searching for peacocks, pangolins, llamas and lynxes, what Mr. Gottlieb call "tertiary animals."
Consumers are even searching for stuffed ants, crabs, red koi and cuttlefish.
"More obscure animals are getting more popular," Mr. Gottlieb said.
Ex uno plures
Time was when a teddy bear was a singular gift. A little guy with stiff stuffing, a button nose and "fur" that often felt like hair or carpet. He burrowed his way into a child's imagination, even though he may have spent most of his life sitting on a bedside table.
Now, babies can end up with a half-dozen plushies by their first birthday. The toys are often soft enough to leave in cribs, and children's collections grow from there.
"We've gone from 'Here's your first teddy bear that sat on your dresser' to 'Here are 25 soft toys that you can have on your bed, sleep with,'" said Barbara Isenberg, founder of North American Bear Co.
What explains the evolution?
It's similar to the animal kingdom, where mutations and natural selection rein. Only in the stuffed world, the mutations are technological innovations and the natural selectors are consumers voting with their wallets for softer, more realistic and more varied options.
Ms. Isenberg said the Japanese began making floppier toys in the 1970s and 1980s, and Korean manufacturers stepped in with soft-fabric production in the 1980s.
Then China got into the game with soft fabrics, keeping prices low while expanding production.
"They were able to develop softer toys. I think people responded to those in a huggable way," Ms. Isenberg said. "It's trends coming together, quite frankly."
There has been some loss on the quality side. The stitching might be rougher, and the patterns don't always fit as well.
Ms. Isenberg said the rise of wages and other work options could push production out of China.
When it comes to realism, Mr. Gottlieb figures that trend is being driven at least in part by the nature movement and modern sensibilities about conservation.
The options there are truly amazing.
Wild Republic's Audubon line of birds plays authentic sounds. The mallard duck quacks just like the real thing, and the northern mockingbird's song will have children searching nearby branches.
In that respect, at least, it's full circle back to at least one of the origin stories for teddy bears.
The name comes from President Theodore Roosevelt, who famously refused to kill a corralled bear while on a hunt in Mississippi in 1902 — though he had it killed nonetheless.
A Washington Post cartoon memorialized the event, and a toymaker in New York sewed a stuffed version that closely mimicked a real young bear. He got permission from Roosevelt to use the president's name.
At about the same time, across the Atlantic, Richard Steiff was inventing a stuffed bear for his aunt Margaret's company in Germany. Within years, they were manufacturing more than 1 million a year.
From there, things grew. One analyst now puts the global plushie market at about $8 billion.
Pandemic plunge
While the basic stuffed animal market is perennially strong, its fortunes rise and fall each year based on whether there's a hot toy.
Beanie Babies set the market afire in the 1990s, but stuffed animals sustained a huge crash in 2000, Mr. Gottlieb said.
Bears seemed to have a revival early in the COVID-19 pandemic, popping up in windows in neighborhoods across the country to give children something to hunt for during shutdowns and social distancing.
Yet the plushie market dipped during the pandemic, even as the rest of the toy world set records, said Juli Lennett, an industry analyst for NPD Group.
"It's one of the few categories we have that are actually posting declines right now," she said.
Children are spending more time at home without friends, which would seem to be the perfect time to introduce a soft new pal, but Ms. Isenberg said worries about cleanliness have tamped down on that.
"I think people want things they can actually sterilize," she said.
Among the toys that are selling, there are some real curiosities.
The latest installment of Hasbro's Furreal Friends is known as PoopALots. They are dogs and cats that one connects to a stiff leash.
"It has a special feature: It poops," Ms. Lennett said.
She said it ranked fourth on the hot special feature toys list, just behind a stuffed "The Child" — aka Baby Yoda — character from Star Wars' "Mandalorian" series and just in front of a Hatchimals llama-unicorn mix.
The real animal kingdom hasn't caught up to the llama-unicorn combination yet.




View original Post