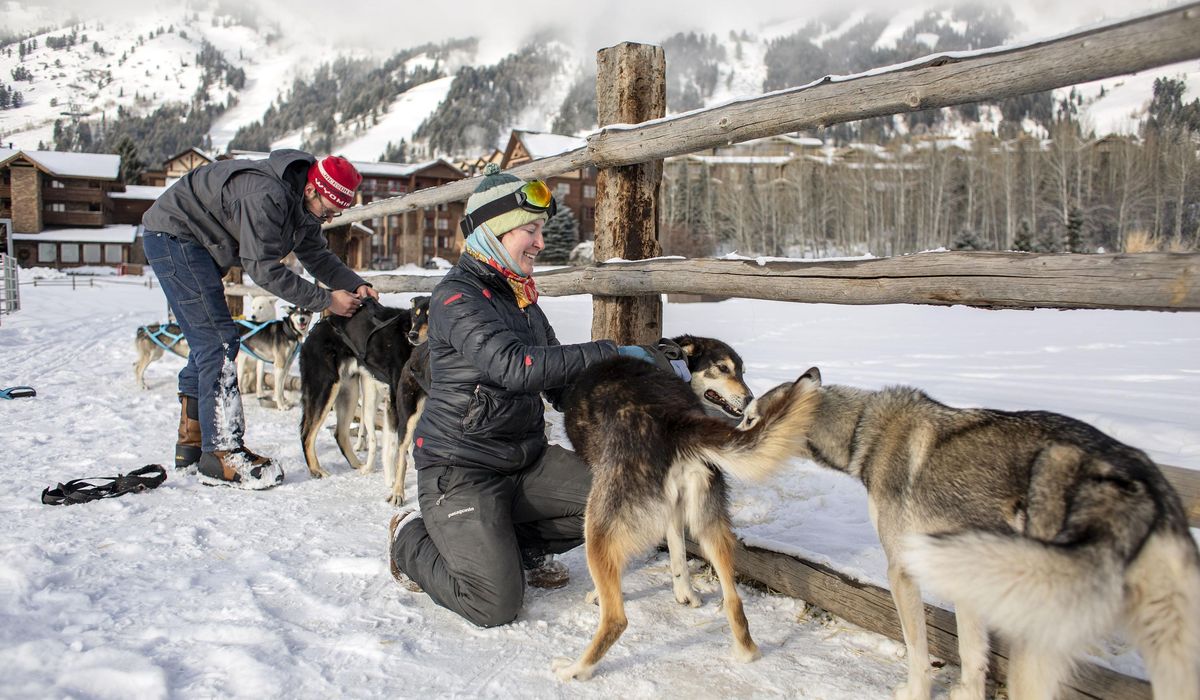 JACKSON, Wyo. (AP) – Four years ago Abby Jacques had one dog and didn't own a business.
Now she has 42 dogs and they are her business.
Jacques is in her first winter running Call of the WYld, a dog sled tour company that runs out of Teton Village. She's not only the first woman in the county to operate a sled tour business – "as far as I know, ever," she said – she's by far the closest to the center of the tourism business in Jackson Hole. Her competitors are Jackson Hole Iditarod Sled Dog Tours in Granite Creek, along the Hoback Canyon, and Continental Divide Mountain Adventures, located at Togwotee.
Jacques had "been around dog sledding my whole life" and worked for Continental Divide at Togwotee when she began dreaming of her own dogs and business. She had seen during the busy parts of winter that the business "turned away hundreds of people" who asked about tours just because there weren't enough sleds and hours to give a ride to everyone who expressed an interest. She also found that being far from Jackson and offering half-day and full-day tours also cut into potential customers.
So a location right in Teton Village and offering hourlong tours meant she could plug in to a segment of the public that wanted a tour but was dissuaded by the time and distance involved, the Jackson Hole News & Guide reports.
"I knew there was a market," she said. "We have customers who don't have a half day or a full day, so we have our own little niche."
Being based at the horse corrals near the Village's parking lots, in sight of big fancy hotels, is another advantage. Another plus was that she had worked for the National Elk Refuge and Scenic Safaris, knew people at the Jackson Hole Chamber of Commerce and had worked some hotel front desks: "I had a few contacts who knew this was something I was trying to start," she said.
Tours run north from Teton Village into open space along Moose-Wilson Road toward the entrance to Grand Teton National Park. The runs are a bit under 4 miles and take about 45 minutes.
The distance is perfect for her crew, which she calls "old and fuzzies." While racing dogs and a great many sled haulers must be young, hers are mostly 8 or 10 years old, dogs that have worked in other operations and whose careers might be nearly done if not for a chance to work on shorter runs.
"They still have a lot of energy left, and this gives them a second opportunity if they don't have to do it competitively," Jacques said. The dogs come back from a run "with the biggest smiles on their faces."
The dogs live on a ranch just south of the resort, being "a little too loud to be at the Village." The 42 huskies wolf down about a ton of dog chow about every three months; that's about 25 pounds a day for the whole crew, along with about 25 pounds of raw meat each day. The special-blend chow comes from First Mate Pet Foods through a sponsorship.
Running Call of the WYld involves about seven people, including Jacques' boyfriend, Michael Tarver, who also has his own business, a mobile RV repair and storage operation called StoreIt JH. When people meet two of them, Jacques said, she frequently has to explain that she's the musher, not the guy with her.
"He's pretty new to this. … He was with me when I started this company, and he got into it because I got into it," she said. "A lot of people think it's the guy in charge, but I find a lot of the time in mushing it's the girls, and the guy just doesn't want to sit on the sidelines."
It was a bit intimidating to start a business – especially one with so many canine staffers – but Jacques said it was a dream from way back that she couldn't put off any more.
"I've wanted a team, but I kept waiting," she said. "But I said, 'if I don't do this now it will never happen' – or I would regret it the rest of my life.
"If you want something bad enough have to risk everything, even risk falling on your face."
Her original dog, Elecktra, was enthusiastic in endorsing the business, having found single dog life a terrible situation that required howling and chewing.
"They're pack dogs," Jacques said. "She's ecstatic with all the other huskies."
Copyright © 2020 The Washington Times, LLC.




View original Post