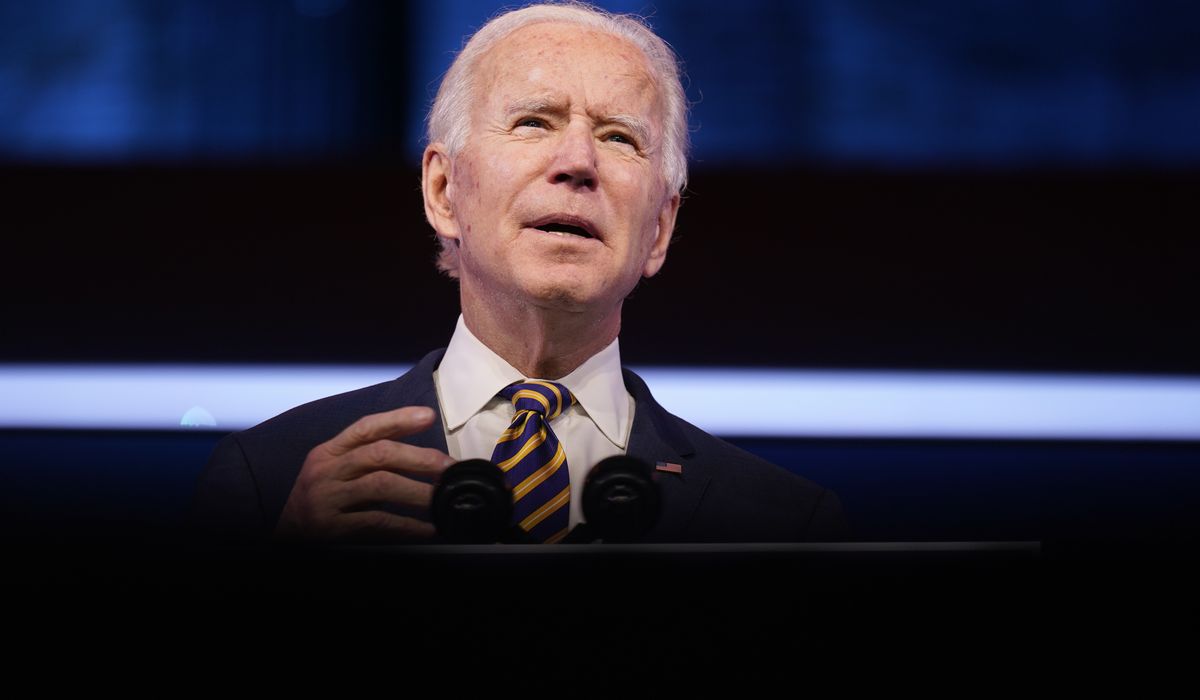 President-elect Joseph R. Biden said Tuesday that President Trump's efforts to vaccinate Americans are "falling behind, far behind," and he will invoke wartime production powers after his inauguration to speed up the campaign.
Mr. Biden said he is grateful to the companies and scientists that developed vaccines but said only a few million people have received doses, or far short of the official goal of 20 million by the end of the year. He said the vaccination campaign will take years, instead of months, at that pace.
Hoping to immunize 100 million people within his first 100 days, Mr. Biden said he will invoke the Defense Production Act and propose a COVID-19 funding package to Congress to improve the delivery of vaccines and bolster testing.
"This is going to be the greatest operational challenge we've ever faced as a nation, but we're going to get it done," Mr. Biden said in Delaware.
The president-elect did not go into great detail about how he will use the DPA, a Korean War-era law that allows the president to marshal private manufacturing in an emergency. Mr. Trump used the law to compel the production of ventilators and things like testing swabs as the virus walloped the U.S. in the spring.
Mr. Biden did say he will use the authority to get companies to make the materials needed to produce vaccines and protective gear.
He also appointed nine new members to his COVID-19 response team to work on supply-chain issues, vaccinations and testing. The team includes existing Biden advisers and an array of health professionals, including Carole Johnson, commissioner of the New Jersey Department of Human Services and Bechara Choucair, a top executive at the Kaiser Permanente health system.
Mr. Biden said he'll set up vaccination sites to improve efficiency and send mobile units to hard-to-reach places. And he repeated his request for Americans to wear masks for 100 days after he takes office, saying the worst is yet to come as the daily death toll for COVID-19 nationwide tops 2,000.
"I remain optimistic about our future," Mr. Biden said. "I can see a return to normalcy in the next year.
"But I need to be honest. The next few weeks and months are going to be a very tough period of time for our nation — maybe the toughest of the entire pandemic," he said. "I know that's hard to hear. But it's the truth."
He said tens of thousands of more Americans will likely die in the coming weeks, bringing the toll to 400,000 as the current mark reaches 337,000.
Mr. Trump's "Operation Warp Speed" hoped to get initial doses of COVID-19 vaccines from Pfizer and Moderna into 20 million people by the end of the year.
A dashboard from the Centers for Disease Control and Prevention says about 11.5 million doses have been distributed to the states and only 2.1 million people have received shots into their arms.
There is a lag in the data — health care providers can report the shots up to 72 hours after they occur — and numbers should start to jump as a nursing-home campaign from CVS and Walgreens ramps up. Still, the country appears to be far short of its end-of-year goal.
Moncef Slaoui, science adviser for Mr. Trump's Operation Warp Speed, acknowledged before Christmas that it would be difficult to meet the 20 million target.
"The commitment that we can make is to make vaccine doses available," Mr. Slaoui said. "And I think that commitment is met. Exactly how fast the wrap-up of immunizations, shots in arm is happening is slower than we thought it would be."
"We're here to help the states accelerate that appropriately," he said.
Mr. Biden said as president he will launch a "massive" public education campaign to promote the vaccines, though the Trump administration on Tuesday detailed a similar plan.
It will launch television, print and digital ads in January to overcome skepticism and ensure uptake of the vaccine once it is more widely available in 2021.
Officials said the campaign will ramp up through March and they didn't start sooner because they wanted to coordinate advertising with the availability of the vaccine, which is rolling out in limited quantities. It would be a "disservice," health officials said, to create demand for a vaccine that isn't there.
Officials have already released radio ads in English and Spanish that remind people to maintain mask-wearing and social-distancing measures until the vaccine is widely distributed and the country builds up immunity to COVID-19.
The campaign will focus on educating people about the vaccine instead of relying on celebrities to vouch for the shots.
In the meantime, Vice President Mike Pence, top lawmakers and others have been getting their vaccinations publicly to build confidence in the shots.
Vice President-elect Kamala D. Harris received the first dose of Moderna's COVID-19 vaccine on Tuesday in the nation's capital.
"That was easy — thank you," Ms. Harris said after rolling up her sleeve for the cameras at United Medical Center in Southeast D.C.
She encouraged people to get vaccinated when it's their turn, saying it's relatively painless and safe.
"I trust the scientists, and it is the scientists who created and approved this vaccine," she said.
Doug Emhoff, Ms. Harris' husband, also received a vaccine shot on Tuesday, though not in front of the cameras.
Mr. Biden and incoming first lady Jill Biden received their initial doses last week. They received the Pfizer-BioNTech version.
• David Sherfinski contributed to this report.




View original Post