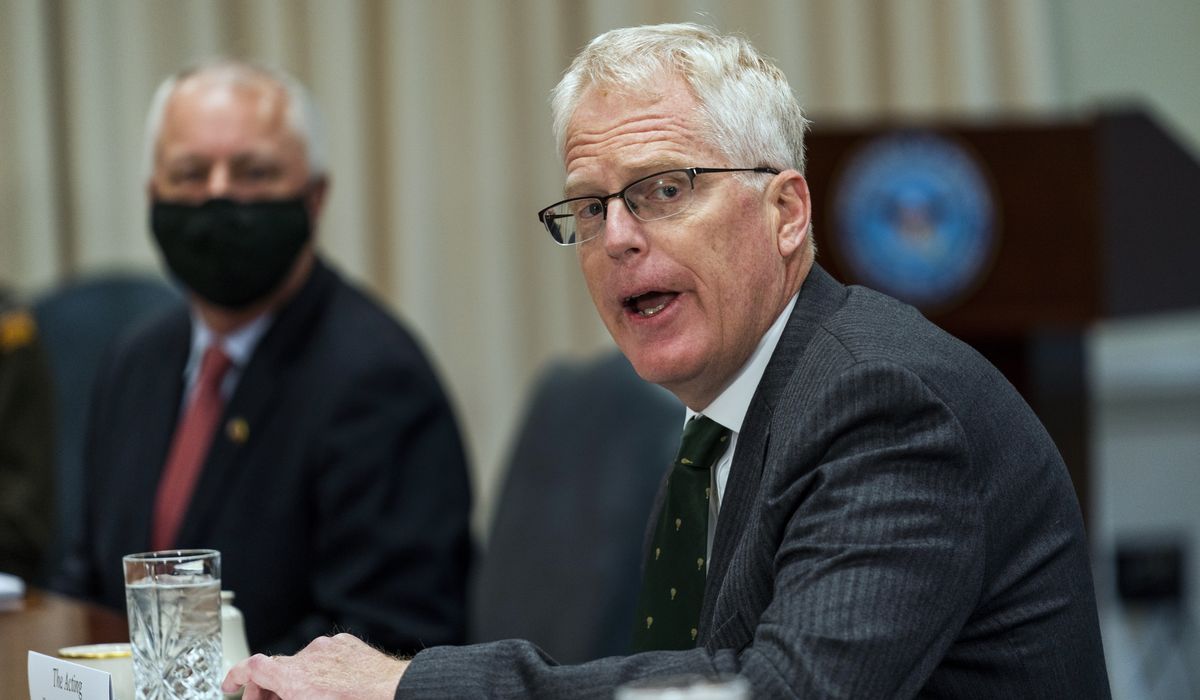 The U.S. must end the era of "perpetual war" and bring its troops back home, Acting Defense Secretary Christopher C. Miller wrote in a weekend message to the Pentagon, laying the groundwork for major withdrawals from Afghanistan and elsewhere during the final weeks of the Trump administration.
Mr. Miller, a military veteran and counterterrorism official who was tapped for his new post after the abrupt firing of Mark Esper last week, made crystal clear that he shares President Trump's view that "endless wars" abroad are not in America's interest.
His comments strongly suggest the administration will mount a fierce push to bring all U.S. forces home from Afghanistan before presumptive President-elect Joseph R. Biden takes office in January.
Mr. Miller also could preside over further troop drawdowns in Iraq, Syria and in Africa, if Mr. Trump presses the issue with military leadership.
The acting secretary stressed that the U.S. must continue its fight against al Qaeda and other extremist groups, but he also argued that it's time for America's role to change.
"As we prepare for the future, we remain committed to finishing the war that al Qaeda brought to our shores in 2001. This war isn't over," Mr. Miller wrote. "We are on the verge of defeating al Qaeda and its associates, but we must avoid our past strategic error of failing to see the fight through to the finish. Indeed, this fight has been long, our sacrifices have been enormous, and many are weary of war — I'm one of them — but this is the critical phase in which we transition our efforts from a leadership to supporting role."
"We are not a people of perpetual war — it is the antithesis of everything for which we stand and for which our ancestors fought," he wrote. "All wars must end. Ending wars requires compromise and partnership. We met the challenge; we gave it our all. Now, it's time to come home."
Mr. Miller did not explicitly mention Afghanistan, but it's clear that is the administration's top priority in terms of troop withdrawals.
The administration's peace deal with the Taliban, struck last February, calls for the end of America's military presence in exchange for guarantees Afghanistan will never again become a safe haven for al Qaeda and other terrorist groups.
The U.S. had about 12,000 troops in the country when the deal was signed. The number is now about 4,500. Administration officials have said it will be down to 2,500 by early year, but Mr. Trump has declared that he wants all forces home by Christmas — far earlier than the mid-2021 deadline for full withdrawal laid out in the U.S.-Taliban deal.
Mr. Miller may try to meet the president's ambitious timeline despite skepticism from some military leaders who favor a more cautious, conditions-based approach. There are also major questions about whether that timeframe is logistically feasible.
It's no secret that Mr. Trump's broader effort to bring U.S. troops home has led to friction with military leaders. In late 2018, for example, then-Defense Secretary James Mattis resigned in protest over Mr. Trump's decision to pull most American forces from Syria.
On Afghanistan, critics say it would be a serious mistake for the president to install Mr. Miller and other newly minted Pentagon officials just to facilitate a quicker exit.
"If it's got something to do with Afghanistan, the president needs to recognize that battlefield reality doesn't often comport with a political calendar," former Homeland Security Secretary Jeh Johnson told ABC's "This Week" on Sunday. "If he wants troops out of Afghanistan, as I know most Americans do, we have to do it in a way that makes sense, in an orderly manner, and that comports with battlefield reality."
The president did not give a reason for dismissing Mr. Esper, though the two men have publicly clashed on issues and their relationship had soured over the past several months.
Meanwhile, Pentagon officials warned recently that continued Taliban attacks across the country could undermine the U.S.-Taliban peace agreement. American forces in recent weeks have ramped up airstrikes on Taliban targets in support of Afghan security forces.
While Mr. Trump has succeeded in reducing the number of troops in war zones such as Afghanistan, Iraq and Syria, critics point out that he's actually sent more service men and women to the Middle East than he has brought home. The Pentagon over the past two years has dispatched thousands of troops to U.S. military bases in the region because of tensions with Iran.
The Pentagon does not release exact troop figures, but the number of new deployments and redeployments looks to be greater than the forces Mr. Trump has brought home.




View original Post