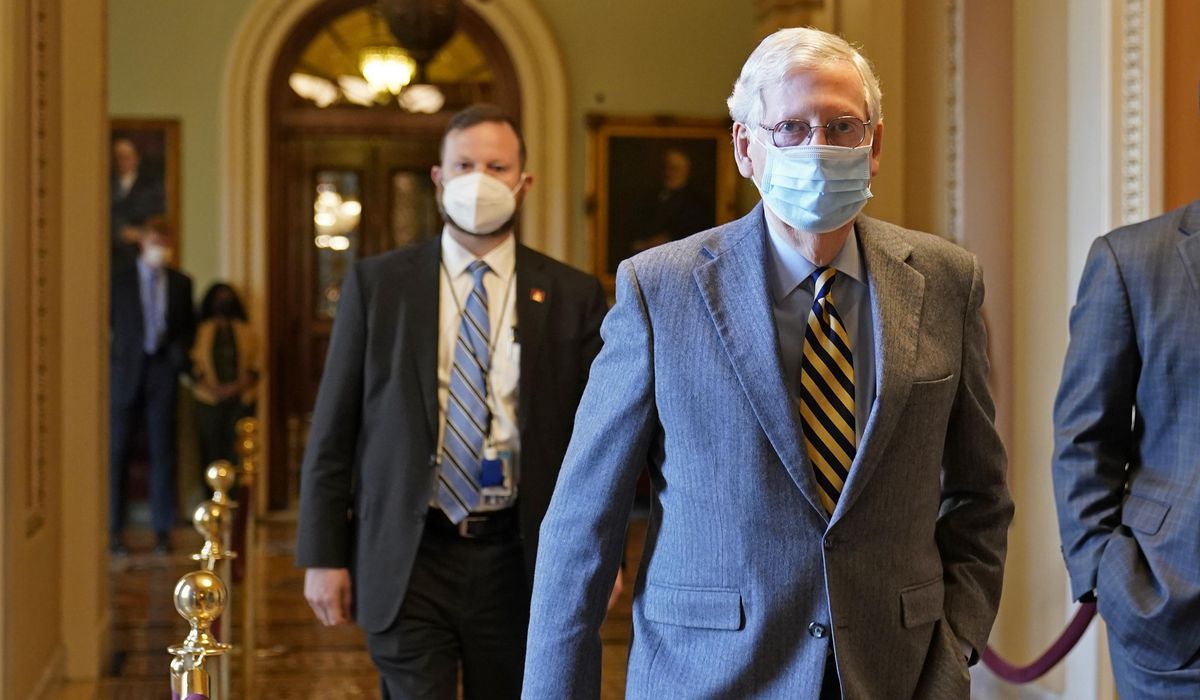 Senate Majority Leader Mitch McConnell said Thursday that congressional Democrats are pursuing "socialism for rich people" by pushing for direct payments of $2,000 to millions of Americans.
Mr. McConnell blocked quick action on the payments in an ongoing standoff, though some lawmakers expressed hope that they could get another crack at the coronavirus relief checks after the new Congress convenes on Sunday.
"Socialism for rich people is a terrible way to help the American families that are actually struggling," the Kentucky Republican said on the Senate floor.
Democrats — following the lead of President Trump, who called the $600 checks included in a $900 billion COVID-19 relief package "measly" over the weekend — are pushing to increase the amount sent to millions of Americans to $2,000.
Mr. McConnell said that under the Democrats' bill that passed the House this week, a family of five earning $250,000 per year would receive a $5,000 check.
"We do not need to let the speaker of the House do socialism for rich people in order to help those who need help," Mr. McConnell said.
Under the legislation Mr. Trump signed into law, $600 would go to individuals making up to $75,000 per year and couples making up to $150,000 per year. Payments would be phased out for those with higher incomes and include a $600 additional payment per dependent child.
Under House Democrats' bill, the income thresholds are the same for the full $2,000-per-person payments.
Single adults making less than $115,000 per year and couples making less than $230,000 would still be eligible for some money.
Senate Minority Leader Charles E. Schumer again tried to move for a vote on the House-passed bill, but Mr. McConnell objected.
Mr. McConnell introduced his own bill that included the $2,000 checks, a repeal of legal liability protections for social media companies, and language setting up an election integrity commission — two other priorities of Mr. Trump.
Sen. Bernard Sanders, Vermont independent, challenged Mr. McConnell to bring both the House-passed bill and the Kentucky Republican's own bill up for votes on Friday.
"What objection could Leader McConnell have for not voting on his own bill?" Mr. Sanders said.
Mr. Sanders has been leading Senate Democrats' move to block quick action on a vote to override Mr. Trump's veto of a defense authorization bill to try to win an up-or-down vote on the $2,000 checks bill.
Mr. Schumer said that with the House out for the year, the Democrats' bill is the only game in town.
"Either the Senate takes up and passes the House bill, or struggling Americans will not get $2,000 checks during the worst economic crisis since the Great Depression," Mr. Schumer said.
Mr. Schumer said the Senate can consider the three issues in Mr. McConnell's legislation separately.
Earlier Thursday, Senate Judiciary Committee Chairman Lindsey Graham also endorsed the idea of teeing up standalone votes on the individual provisions in Mr. McConnell's bill.
"President Trump wants three things: a commission to investigate fraud, $2,000 checks, and to repeal Section 230," the South Carolina Republican said on "Fox & Friends." "I am urging Sen. McConnell to give us standalone votes in the new Congress after Jan. 3 on all three measures."
The new Congress is set to be sworn in Sunday.
Section 230 of the Communications Decency Act shields social media companies from legal liability for content users post on their platforms.
The U.S. economy has rebounded from the worst of the virus-related damage.
But people are still feeling the effects from previous lockdowns and the associated fallout as new coronavirus cases, hospitalizations and deaths hit record highs.
New applications for unemployment claims fell slightly last week to 787,000, the Labor Department reported on Thursday. It's still a stubbornly high figure — it is nearly four times higher than a year ago — but it's well below the record 7 million in late March.
Mr. Trump said in a video released Thursday that the economy is on the mend, saying some analysts had been forecasting that the unemployment rate could spike as high as 45% earlier this year.
"We're doing numbers now like nobody's ever seen before, including having the highest stock market in the history of the world," the president said.
The U.S. unemployment rate was 6.7% in November, down from a 2020 high of 14.7% in April.




View original Post