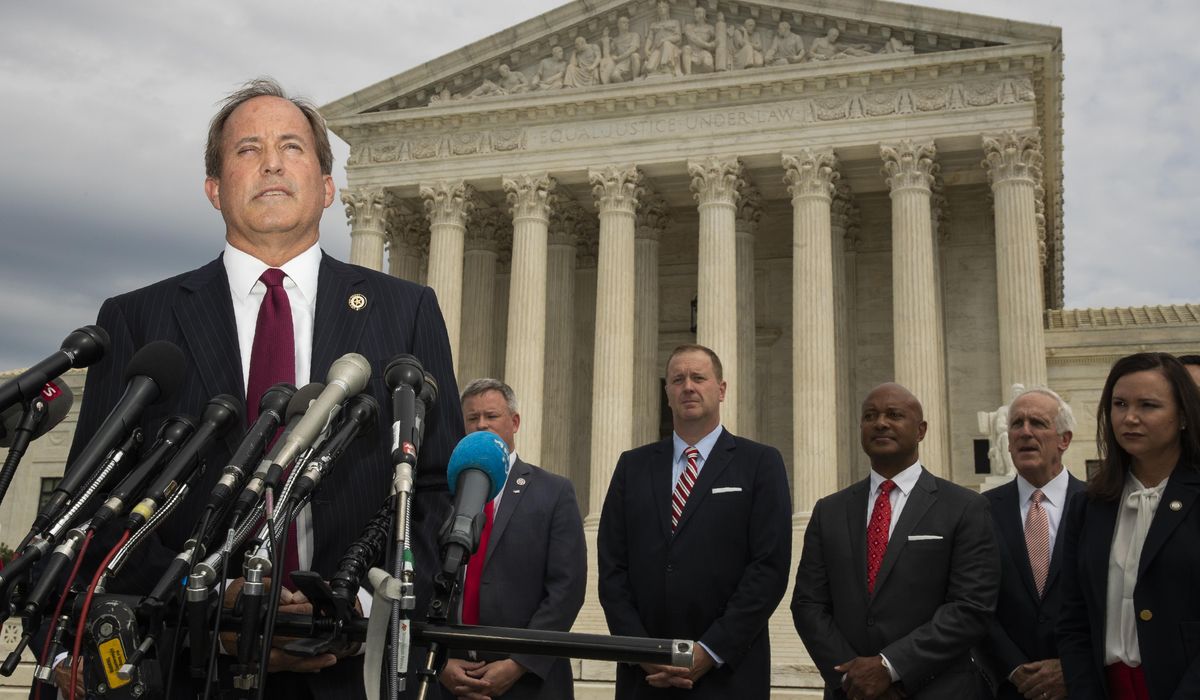 Texas has gone to the Supreme Court to stop Georgia, Pennsylvania, Michigan and Wisconsin from appointing presidential electors for presumptive President-elect Joseph R. Biden, saying those states held a "flawed" election.
Texas Attorney General Ken Paxton's motion is seeking to have the high court order the legislatures of those four states to choose presidential electors, presumably for President Trump. He said election irregularities in the states "cumulatively preclude knowing who legitimately won the 2020 election and threaten to cloud all future elections."
"Taken together, these flaws affect an outcome- determinative numbers of popular votes in a group of States that cast outcome-determinative numbers of electoral votes," the motion said. White House press secretary Kayleigh McEnany, on her personal Twitter account, called the move "huge."
"This means Texas will have original jurisdiction to go directly to the Supreme Court!!" she said.
Trump campaign lawyer Jenna Ellis tweeted, "Don't mess with Texas."
The Texas complaint argues that the other states violated the Electors Clause of the Constitution by making changes to voting rules and procedures through the courts or through executive actions, rather than through their state legislatures.
Texas also argues that its own votes in the presidential election were "debased" by the illegal actions of the other states.
"Certain officials in the defendant states presented the pandemic as the justification for ignoring state laws regarding absentee and mail-in voting," the complaint says. "The defendant states flooded their citizenry with tens of millions of ballot applications and ballots in derogation of statutory controls as to how they are lawfully received, evaluated, and counted. Whether well-intentioned or not, these unconstitutional acts had the same uniform effect—they made the 2020 election less secure in the Defendant States."




View original Post