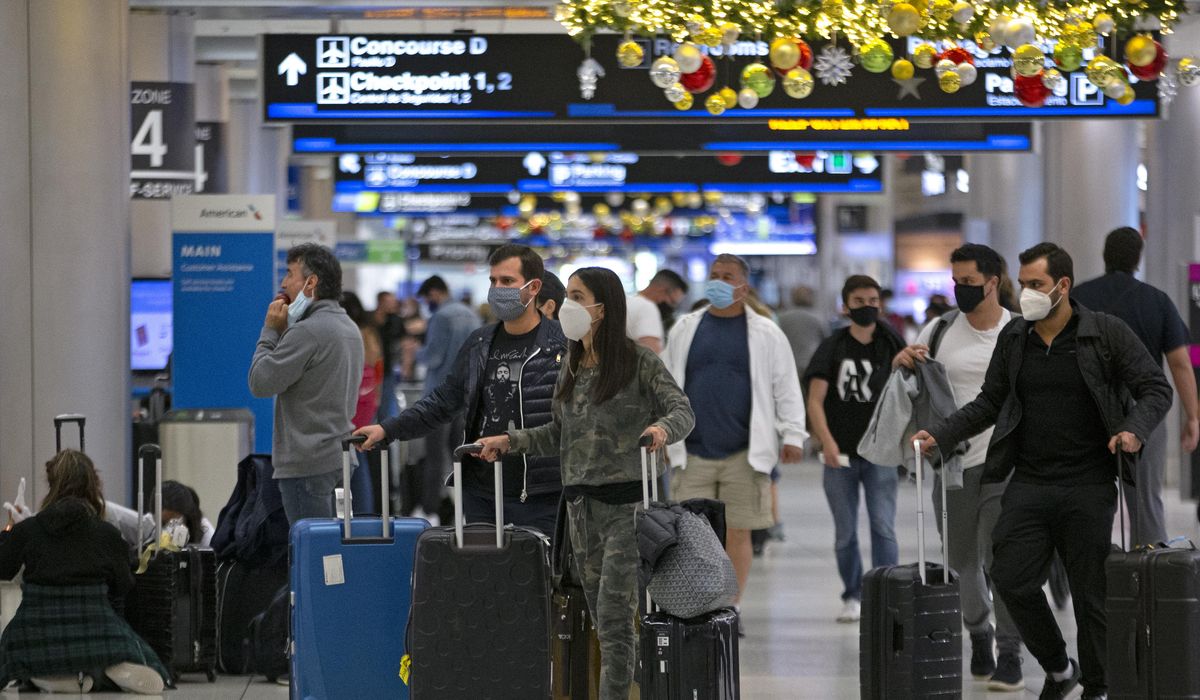 The White House won't rule out the travel restrictions into and out of Florida, California or any other state struggling to contain new coronavirus variants.
Republicans say the restrictions under consideration would be unconstitutional and hypocritical for Democrats, who blasted the idea when a Republican was in the Oval Office.
When President Trump considered domestic travel bans roughly a year ago, New York Gov. Andrew Cuomo, a Democrat, slammed any federal restrictions as a "declaration of war on states."
The focus on travel limits intensified Thursday after a Miami Herald report said the White House was considering a crackdown to get a handle on the increasing number of coronavirus variants surfacing in Florida, California and other states.
"I have seen those reports," White House press secretary Jen Psaki said at Thursday's briefing. "We are always considering what steps are necessary to keep the American people safe."
Ms. Psaki, however, said, "No decisions have been made around additional public health measures that would change domestic travel considerations."
The prospect of a domestic travel ban fell flat with Florida Republicans.
Gov. Ron DeSantis called the prospect of restrictions on domestic travel unconstitutional, unwise and unjust.
"We will oppose it 100%," he said. "Any attempt to restrict or lock down Florida by the federal government would be an attack on our state done purely for political purposes."
Sen. Marco Rubio, Florida Republican, blasted off a letter warning the White House that travel restrictions on his state would be "reckless and economically harmful."
"Instituting a travel ban, or any restriction of movement between the states, would be an outrageous, authoritarian move that has no basis in law or science," he said.
Mr. Rubio said in a post on Twitter that Mr. Biden last year warned that "banning travel from anywhere did not work."
"So now that they're considering actual restrictions on Americans inside the country, I think it is unconstitutional," Mr. Rubio said Thursday on "Fox and Friends." "I think it's going to be challenged in court successfully."
The administration's considerations are tied to more than 900 cases of the fast-spreading U.K. variant, known scientifically as B.1.1.7, which has been detected in nearly three dozen states, according to the Centers for Disease Control and Prevention.
Florida has recorded the most instances of the U.K. variant, with 343 cases. California had 156, and New York had 59 as of Thursday.
Florida is averaging fewer new COVID-19 cases overall: nearly 7,700 per day compared with 8,600 in New York and nearly 12,000 in California.
It is an open question as to whether domestic travel restrictions would survive legal scrutiny.
The Supreme Court has upheld Americans' constitutional right to travel between states and knocked back travel restrictions when states attempted to impose them.
However, the federal government could declare a national public health emergency and use police powers to bar interstate travel. The action is authorized in the Public Health Service Act with language from an 1890 law that could allow restrictions on travel to stop the spread of communicable diseases, though it has never been used to shut down an entire state.
"It's within federal power to regulate, and therefore restrict, interstate commerce," said Ilya Shapiro, a constitutional scholar at the libertarian Cato Institute.
"Given that Florida is by no means a COVID hot spot as compared to other states, I don't see the justification, particularly a year into the pandemic when the virus is everywhere already," Mr. Shapiro said. "Airplane travel doesn't seem to be a vector for viral spread either, given the safety precautions the airlines have put in.
"So I think if he tried this it would be hugely controversial and unlikely to survive judicial review," he said.
Whatever the case, domestic travel bans have proved to be political lightning rods.
When Mr. Trump considered imposing travel restrictions on COVID-19 hot spots in the Northeast last year, Mr. Cuomo pushed back aggressively.
"This would be a declaration of war on states, a federal declaration of war," he told CNN.
Mr. Trump eventually concluded that the move was unnecessary.
⦁ Tom Howell Jr. contributed to this report.




View original Post